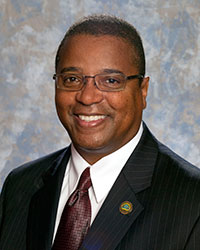 The Honorable William Capote
Mayor of the City of Palm Bay, Florida
Mayor Capote was elected the new mayor of the city of Palm Bay on November 6, 2012. He is the first Latino of Afro-Cuban descent to serve as mayor.
Palm Bay is the largest city in Brevard County and is the second-largest city in the Central Florida region with a population of more than 106,000 residents and growing.
Mayor Capote is dedicated to showcasing Palm Bay as a destination city full of endless possibilities for emerging technologies, a strong and vibrant economy and a rich environment for families and residents to enjoy. He believes Palm Bay is one of Florida's best kept secrets and promises to tell the world the story of why it's such a hidden gem.
His commitment to the community is evident by countless hours of volunteer service in areas such as the Port Malabar Elementary School PTA, Odyssey Charter School, Meals on Wheels, South Brevard Pop Warner Football Board of Directors, Palm Bay Chamber of Commerce, Mid-Florida American Red Cross, the Boy Scouts of America and…. As mayor of Palm Bay he serves on both the Brevard County Economic Development Commission of Florida's Space Coast and the Tourist Development Council. His is also a member of the Florida League of Mayors and the U.S. Conference of Mayors in addition to serving as treasurer for the Space Coast League of Cities.
Mayor Capote was first elected to the Palm Bay City Council in 2008. During his first year as mayor progress towards a more vibrant economy began to be realized. In 2012 the city began construction of the new Palm Bay Parkway which when completed in 2014 will open up an entire new region of northwest Palm Bay to residential and commercial development. The world famous Bass Pro Shops also opened a new store in the area it likes to call the "bass fishing capital of the world." Growth also came with new businesses moving their headquarters to Palm Bay such as I.O. Inc., D.R. Horton, and the Space Coast Habitat for Humanity ReStore. New research and development is underway with the Florida Institute of Technology Research Center and most notable is the Harris Corporation's $100-million investment in building its new Technology Center that will bring more than 150 new jobs to the area.
Mayor Capote embraces many causes, but one very near and dear to his heart began when he met an 11-year-old girl named Acacia who single-handedly championed the cause of anti-bullying by promoting friendship instead. Acacia, with help from her mom, founded Tiny Girl Big Dream Inc., and her mission is to put a "friendship bench" in every school across America starting with Palm Bay. Mayor Capote used the annual Mayor's Ball to raise awareness and more than $17,000 for the cause.
Mayor Capote was born in Pinar del Rio, Cuba and fled the country with his parents and two siblings in 1970 during the "Flights of Liberty". The family arrived in Miami but after a week they migrated to Hoboken, New Jersey where his parents still reside. Mayor Capote earned a bachelor's degree in Organizational Management and a master of science in Management, both from Warner University. He served in the New Jersey Army National Guard from 1985 to 1993.
Mayor Capote and his family moved to Palm Bay in 1994. He has been married for 24 year and has two sons.