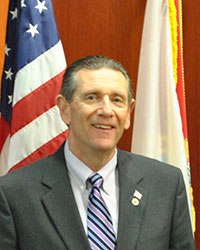 The Honorable Robert Apgar
Mayor of the City of DeLand, Florida

Robert "Bob" Apgar has been a resident of DeLand, Florida since 1959. He received a Bachelor of Arts degree in psychology from Davidson College in 1969 and his law degree from the University of Florida. Bob is semi-retired and works part time for a social service agency. Previously, he was a Senior V.P. and General Counsel of Consolidated-Tomoka Land Co., a publicly traded corporation. Bob is married, has three grown children and seven grandchildren.

Bob was elected as Mayor of the City of DeLand in 2001 and re-elected in 2005 and 2010 without opposition. His prior service to the City includes 13 years as a City Commissioner. He serves as DeLand's representative on the Volusia Council of Governments and in the past has served 4 terms as the Chairman. He has served as DeLand's representative on the Volusia County Metropolitan Planning Organization and in 2001 he served as Chairman of that organization. He is an active member of the DeLand Breakfast Rotary Club. He is a Past President of his Rotary Club, Hatter Boosters (Stetson University) and Bulldog Boosters (DeLand High School). He is a past Vice President of the DeLand Chamber of Commerce and the United Way of Volusia County. He served as a member of the Cultural Arts Center and on its Board of Directors. As President and through his leadership, the DeLand Sports Redevelopment Association, Inc. (DSRA), raised $450,000 for the revitalization of the City's aging recreational sports facilities. In 2009, Bob received the E. Harris Drew lifetime achievement award from the Florida League of Cities. Bob Apgar is a strong leader of DeLand's City Commission. DeLand is generally recognized throughout the state as being a quality city with a lot of success stories as a community. Bob Apgar has played an active role in achieving this success.