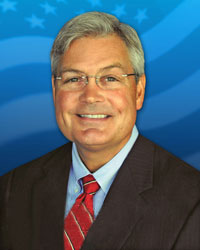 The Honorable Randall Henderson
Mayor of the City of Fort Myers, Florida

Biography 2012
Randy has been a resident of Fort Myers for 32 years. He was born and raised in North Carolina where he graduated from Mars Hill College in 1979 with a BS in business administration.
Randy's career in Fort Myers began in banking where he worked his way up to Vice-President. He left banking in1986 and assumed operating responsibilities for Corbin Henderson Company, a real estate firm, as president. He has been happily married to his wife Ginny for 31years and has three children – Alex, Marcus, Laura and son-in-law, Jay Fraser.
Randy has been involved in community affairs for years serving on the following boards:
Current Affiliations –
Advisory Board Member, Edison Pageant of Light
Advisory Board Member, Salvation Army
Director First Community Bank
Member, Fort Myers Kiwanis Club
Member, First United Methodist Church
Member, Lee County Horizon Council
Member, President's Council of International College now Hodges University
Member, Uncommon Friends Foundation
Former Service –
Fort Myers American Little League, Coach/Manager for 14 years
Director of NCNB National Bank, Fort Myers
Director of First National Bank of Fort Myers
Chairman, Salvation Army Advisory Board
Chairman, City of Fort Myers Conference and Convention Council
Past President, Greater Fort Myers Chamber of Commerce
Past President, Fort Myers Kiwanis Club
Advisory Board Member, City of Fort Myers Conference and Convention Council
Advisory Board Member, Edison Community College Foundation
Advisory Board Member, Mars Hill College
Nature Center of Fort Myers
Personal –
Mayor Henderson is a private pilot and enjoys flying both for business and personal pleasure. He enjoys time with family and is an avid fisherman.