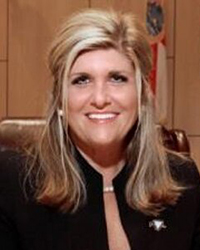 The Honorable Marni Sawicki
Mayor of the City of Cape Coral, Florida

Mayor Marni Sawicki is Cape Coral's first female Mayor. In her 19 months in office she, and a majority of the City Council members, voted to establish the county's first Domestic Partnership Registry providing certain legal rights, in Cape Coral, which are not currently afforded to those who aren't legally married in the state of Florida. In doing so, Cape Coral became the second city in SW Florida to have such a program. The Mayor has recently been awarded the Florida League of Cities 'Hometown Hero' Award, along with our City Manager, and a fellow Council Member, for their lobbying efforts on behalf of Home Rule. This includes providing testimony before a State Senate sub-committee, to forestall legislation which would have placed the cost of relocating utility lines directly on the cities of Florida. The Mayor, and City, also received an Honorable Mention (Large City category) in the US Conference of Mayors 2015 Climate Protection Awards, for the ongoing efforts to reduce, and conserve, energy on city properties. In addition, she was just awarded the 2015 Elected Women of Excellence Award from the National Foundation of Women Legislators (NFWL).
The City of Cape Coral is also a recipient of FEMA's Integrated Emergency Management Course (IEMC) Training Grant, which will provide onsite training to city personnel for disaster preparedness. City staff was apprised of this grant opportunity by Mayor Sawicki, who learned of it from a Mayoral colleague during a conference.
With a Master's degree in business, she has spent the majority of her career in the insurance industry, where her most recent role was that of Vice President of Marketing for a specialty insurance wholesale company. She is now the CEO/President of her own strategic marketing company, Indigo Pros and uses her expertise to aid small to medium-size companies in everything from strategic planning to product launches. She is also the Executive Director of the Southwest Regional Manufacturers Association., FL.
Professionally she serves on the following committees/organizations: Metropolitan Planning Organization (MPO), Cape Coral Budget Review Committee, Cape Coral Audit Committee, Cape Coral Transportation Advisory Commission (CTAC), Florida League of Cities, Florida League of Mayors, and the US Conference of Mayors.
Originally from Michigan, she loves spending time with her two teenagers, Madisson and Brendon. In her spare time, she enjoys volunteering for Girls Going Places and the Abuse Counseling and Treatment Center (ACT). She is also a member of the Cape Coral Civic Association, Impact Initiative of SWFL, Democratic Women's Club, and Rotary.