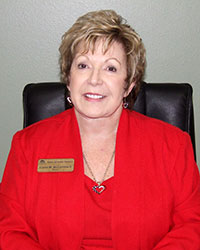 The Honorable Carol M. McCormack
Mayor of the City of Palm Shores, Florida

Mayor Carol M. McCormack has served as Mayor of Palm Shores since December 2002 and was re-elected without opposition to a four-year term of office in 2007.
During her tenure in Palm Shores, she has coordinated and developed the Town of Palm Shores first recreational facility named "Shoreside Park", as well as facilitated the acquisition of the Town's first Brevard County Sheriff Substation. She has virtually eliminated blight within the town, developed and implemented a Redevelopment Plan, and facilitated comprehensive land development within the town.

While serving as Mayor of Palm Shores, she has acted as an advocate within the county and state regarding Highway Safety and the reduction of fatalities. This includes hosting and delegating a Summit on Traffic at Town Hall, which had strong county and state participation and support. In addition to those endeavors, she has participated and assisted with a teenage safe driving program called Operation N.O.W.

Her current involvements include:
• The Florida League of Cities' Board of Directors
• The Florida League of Mayors Board of Directors
• The Florida League of Cities Advocacy Committee
• The Florida League of Cities Finance and Taxation Committee
• Past President of the Space Coast League of Cities
• Rotarian – Serving on the Moon River, Music and Magic Committee
• Member of Civ/Mil (Civilian Military Association)

Her many community outreach programs include sending over 3000 pounds of supplies to our troops in Iraq and Afghanistan, our annual Christmas toy drive, serving as teen court judge, providing programs to senior citizens regarding identity theft, and elder fraud, fundraising for the Wildlife Hospital, and Boy Scouts of America Advisory Committee Member.

Her past experience includes serving as a Legislative Assistant to a former Florida State Senator and Executive Vice President for Associated General Contractors. Mayor McCormack has been a very strong voice for the residents and business community of Palm Shores. She has a passion for serving the people and their needs; she is extremely involved in her community and its development.

Mayor McCormack is married to Richard McCormack and they share four children and six grandchildren. In her spare time she enjoys watching Gator Football.