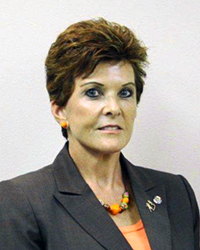 The Honorable Camille Sutherland Hernandez
Mayor of the City of Dade City, Florida
Mayor Hernandez was elected to the Dade City Commission in April 2006. She ran unopposed in April 2010 and unopposed again in April 2014. She was appointed Mayor of Dade City in 2012 and reappointed in April 2014.
Hernandez received her undergraduate degree in biology from Brown University and her Master's in Public Health from Yale University. She also served as a Rotary International Graduate Scholar traveling to Australia to engage in public health studies at Monash Medical School in Melbourne, Australia. She met her husband Dr. David Hernandez at Yale University and has been happily married for 28 years. They are the proud parents of four grown children, ages 19-26.
Mayor Hernandez currently serves on the Pasco Metropolitan Planning Organization, The Tourist Development Council (Vice Chair), Suncoast League of Cities (alternate appointee), Pasco Economic Development Council, and Smart Start Advisory Council. Hernandez was instrumental in establishing the Dade City Youth Council in 2007 and continues as the Facilitator for the Youth Council on an ongoing basis. Hernandez also serves as past president of the Area Agency on Aging for Pasco and Pinellas for the last 9 years.
In addition to serving on the Dade City Commission, Camille is a founding member of Restored Hope, an outreach center to help those in need and at risk in our community using resources to diminish hunger and suffering and empowering self-sufficiency. Mayor Hernandez is also a founding member of Dade City Center for the Arts, which encourages students of all ages to explore the world of art by providing community events and educational opportunities that stimulate public awareness and appreciation of the arts. She is a member of the Dade City Sunrise Rotary Club and a past board member for WEDU.
The Hernandez family is a member of St. Rita Catholic Church in Dade City. In her spare time, Camille enjoys traveling with her husband, spending time at the beach with family and friends, watching old Turner Classic movies and spending quality time with her little brother from the Big Brother Big Sister program.