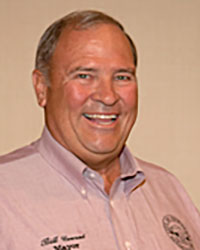 The Honorable William Conrad
Mayor of the City of Newberry, Florida

Education:
Titusville High School - 1967
University of Florida - BA 1972
University of Arkansas, Fayetteville - MBA 1976
Santa Fe College, Building Construction 2002
In the late 1960's and early 1970's, I worked as an EMT for Alachua Ambulance Service, and a police officer for Gainesville Police Department, and took classes at UF whenever I could squeeze them in. I met an Emergency Room Nurse named Martha Preston who was from High Springs. We dated for two years and were married in 1972 and we've been married ever since. I graduated from the University of Florida in 1972 and joined the Air Force immediately after.
The Air Force sent me to flight school to become a navigator. I started flying C-130s, and flew in Southeast Asia, Antarctica, Panama, Europe and lots of other places. In 1978, I was accepted to the 89th Airlift Wing in Washington, DC, where I was a navigator on the VC-137, the presidential aircraft. I traveled with Presidents Reagan, Vice President Bush and many other dignitaries. In 1984 I was back into the real Air Force as a maintenance squadron commander at bases in England and Germany. The squadron I commanded in England was selected as the most outstanding maintenance squadron in Europe in 1986. In 1988 I was sent back to flying duties on the C-141 aircraft at Charleston AFB, SC. There I served as Chief of Special Operations and flew on the lead aircraft during the invasion of Panama. I was also deployed during Desert Storm.
In 1993, I was assigned as a liaison to the United Nations and sent to Somolia. I served as the Airfield Commander at Mogadishu Airport during what was supposed to be a humanitarian mission but turned into a full-scale combat operation. I lost 14 soldiers who were under my command during that mission.
By 1994 I was back to Charleston AFB as the Inspector General, where I served until my retirement in 2000. I retired as a LtCol.
I went back to school at Santa Fe College in 2001 to get a degree in building construction. I got my contractor's license and started Conrad Construction, Inc. in 2002. The company has built new homes and done remodels in Alachua County and has many satisfied customers.
In 2006 I was elected to the City Commission of Newberry FL. In 2009 I was reelected and in 2010 the other commissioners elected me chairman of the commission and Vice Mayor. In April 2011 I was elected Mayor. I serve as the "Utility Commissioner" and was elected by the commission to sit on the Board of Directors of the Florida Municipal Power Association (FMPA), the city's wholesale power provider. The FMPA has recent selected me for the Board of the American Public Power Association, the national trade association. In this capacity, I travel to Washington DC two or three times a year (at their expense) to discuss public power issues with our national leaders. In the two years I have been on the board of FMPA, we have lowered wholesale electric rates by 14%.
As Mayor, I have worked closely with the Manager, staff and commssioners to develop Newberry as the sports tourism capital of central Florida. We have partnered with Easton Archery and Nations Baseball to bring two new national sports venues to the City of Newberry. The Easton/Newberry Archery Center was completed on 2009 and the Nations Baseball Facility will be completed in March of 2012. Upon completion, the Newberry Nations Baseball Facility will be the largest baseball complex in the United States.